Mental Health First Aid Training
Sometimes First Aid Isn't a Band Aid – It's You!
StarCare provides virtual Mental Health First Aid (MHFA) Training to groups and individuals who reside in Lubbock, Lynn, Cochran, Crosby and Hockley counties. The course is designed to give members of the public key skills to respond in a mental health emergency and offer support to someone who appears to be in emotional distress. Most people know how to recognize and appropriately react to medical emergencies, but there is little knowledge in the general public about what to do in a mental health crisis.
First Aiders will complete a 2-hour self-paced class and then participate in a 4.5- to 5.5-hour instructor-led class using videoconferencing technology.
People interested in MHFA can attend one or two separate courses (adult and/or youth) that introduce participants to:
Unique risk factors and warning signs of mental health problems
The importance of early intervention
Helping a person in crisis or experiencing a mental health or substance use challenge
The virtual training includes content on trauma, addiction and self-care and is  gender neutral and culturally relevant. In addition, the Youth MHFA training also has new information for adults working with elementary-age children, including the topic of social media impact.
Just as CPR training helps a person with no clinical training assist an individual following a heart attack, MHFA training helps a person assist someone experiencing a mental health or substance use challenge or a mental health crisis, such as contemplating suicide.
Through experiential activities and role-playing scenarios, participants will:
Learn how to assess a mental health crisis
Learn about the risk factors and warning signs for mental health or substance use problems
Build understanding of the impact of illness on individuals and families
Learn information about evidence-supported treatment and self-help strategies
Learn how to provide initial help and connect people to professional, peer, social and self-help care
The goal of Mental Health First Aid is to increase mental health literacy, not to learn to diagnose or to provide therapy or counseling.
 Who Should Take The Course(s)?
Friends and family of individuals with mental illness or addiction
Law enforcement
HR directors
Primary care workers
School and college faculty, coaches, staff and leadership
Adults who regularly interact with youth
Faith communities
Chambers of Commerce
Professional associations
Hospital staff
Nursing home staff
Rotary Clubs
Parent organizations
Social clubs
Any group or person interested in learning more about mental illness and addiction
To Schedule Your Training or for questions and more information Please contact Ricky Wiles, MA
TO SIGN UP FOR A MENTAL HEALTH FIRST AID COURSE
Those Interested Must:
Reside in Lubbock, Lynn, Cochran, Crosby or Hockley counties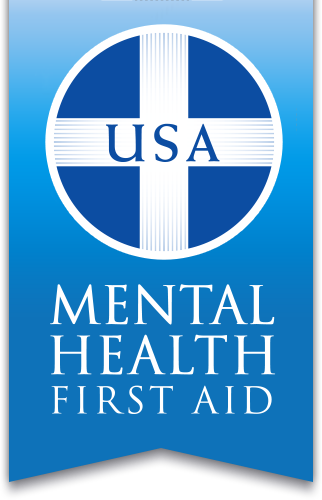 MentalHealthTX.org
Visit this one-stop shop for Texans and community providers to access information on mental health and substance use disorder resources throughout Texas.