Coronavirus (COVID-19) information & Updates
StarCare Specialty Health System (StarCare) is continually monitoring local, state and national communications, especially those from the Lubbock Health Department, the Texas Health and Human Services Commission and the Centers for Disease Control & Prevention (CDC) regarding Coronavirus (COVID-19) developments, updates and recommendations.
As is the case every day, StarCare is committed to providing a healthy and safe environment for employees, the people we support, contractors and guests in our facilities.
Considering current COVID-19 circumstances, in addition to our standard policies and procedures regarding infection control measures, StarCare has added enhancements to ensure we are proactively working throughout our service delivery system to slow the spread of COVID-19.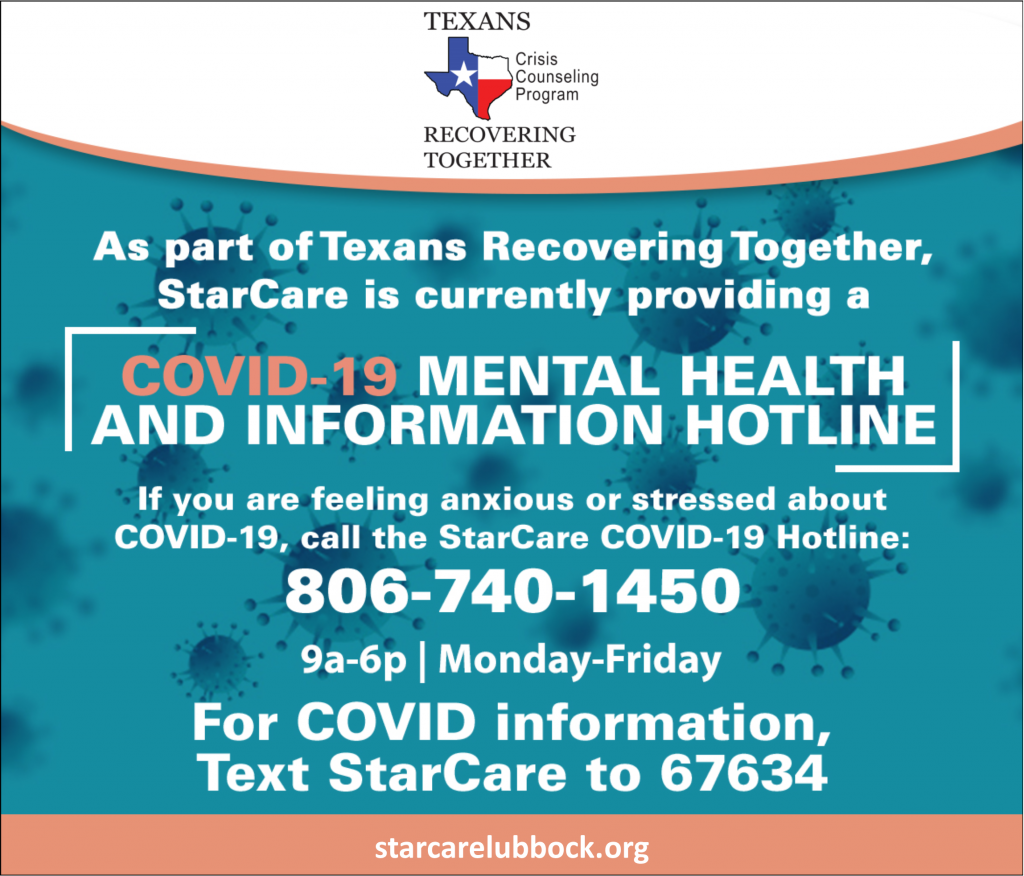 StarCare COVID-19 Mental Health Hotline
We can provide mental health and COVID information to help you navigate the response to COVID's effects on you, your loved ones and/or our community.
Our qualified mental health professionals will connect you to a variety of confidential and anonymous services to help cope with common disaster reactions and to manage stress caused by uncertain times.
We are eager to help, to provide hope and to be a part of #TexansRecoveringTogether.
Text StarCare to 67634 – opt in and receive COVID information
Call StarCare COVID-19 Hotline: 806-740-1450 | 9a-6p | Monday-Friday
Official Communications
Closures
Intellectual Disabilities Day Habilitation – Closed Until Further Notice

Silver Star Day Health Center – Closed Until Further Notice
Temporarily Suspended Services
Open Access Not Available at this Time – Mental Health Assessments and Outreach, Screening, Assessment and Referral (OSAR) services by phone or telehealth only. Please call 806-740-1421.

Sunrise Canyon Hospital Inpatient Unit Visitation – Only employees and contractors with essential business may enter the inpatient hospital. Video visitation, when applicable, will be provided.

Community Meetings – The use of StarCare buildings for non-mission critical community meetings is suspended until further notice.
Veteran Services
Until April 15, 2020, StarCare's VetStar SSVF program will place program eligible, high-risk veteran families living in congregated situations into hotels and motels for up to 45 days based on need and program limitations. Low-income veteran families (both individuals or veteran head of households) who served in an active-duty military setting, who do not have a dishonorable discharge or a general court-martial, and are in a housing stability crisis are eligible.
Should you or your agency identify a high-risk veteran family living in a congregated situation that you feel would benefit from this temporary placement intervention, contact our office at 806-470-9317 and we will arrange for eligibility screening.
Those veteran families displaying symptoms (particularly dry cough, fever, and difficulty breathing) should instead be referred to their community's COVID-19 response process rather than this temporary placement intervention.

What to Expect for those We Serve
The nature of our work and our various sites and the respective services provided at each requires different infection control at each site. We are working at each site to ensure all aspects of infection control are addressed.
Wellness Checks at all Large Service Care Sites – Participants will have their temperatures checked by infrared thermometer prior to admission to the service site. Staff are asked to voluntarily have their temperatures read as well. Anyone found with an elevated temperature will be asked to go home and not return until it returns to a normal level and no other concerning symptoms are present.This applies to the following sites:
– Silver Star Day Health Center
– Intellectual Disabilities Day Habilitation
– Sunrise Canyon Hospital
Wellness Checks at Smaller Service Sites and Offices – Staff are asked to voluntarily have their temperatures checked. People we support who visit these sites will also be asked to voluntarily comply. Anyone found with an elevated temperature will be asked to go home and not return until it returns to a normal level and no other concerning symptoms are present.
Wellness Checks Prior to Home Service Site Visits

Staff will try to communicate with the client ahead of a scheduled visit, either by telephone, text message or video conference. If possible, staff will conduct the entire visit virtually, either by phone or video conference.
Staff will ask the client to report their temperature. A fever is a temperature greater than 100° Fahrenheit and 37.8° Celsius. If the client or household members have a fever or concerning symptoms, such as a cough or shortness of breath, staff will:

(For all NON-CRITICAL services) – Reschedule until after the client has been fever-free (without medication for fevers) for at least 24 hours and symptoms have improved.
(For all CRITICAL services that cannot be postponed) – Use all recommended personal protective equipment (PPE).
For In-Person Visits:

Staff will try to ask the client beforehand if they, or a member of the household, have a fever or symptoms, including cough or shortness of breath.
Staff will conduct the visit with at least six-foot distance and outdoors or outside the residence, such as in a hallway, if feasible.
What You Can Do to Protect Your Mental Health
Many of the people we support struggle with fears, anxiety and paranoia under the best of circumstances. The COVID-19 Pandemic has elevated people's fear and stress and created anxiety in individuals both locally and globally. Below are resources for coping with the stressors of the COVID-19 outbreak and ways to protect your mental health.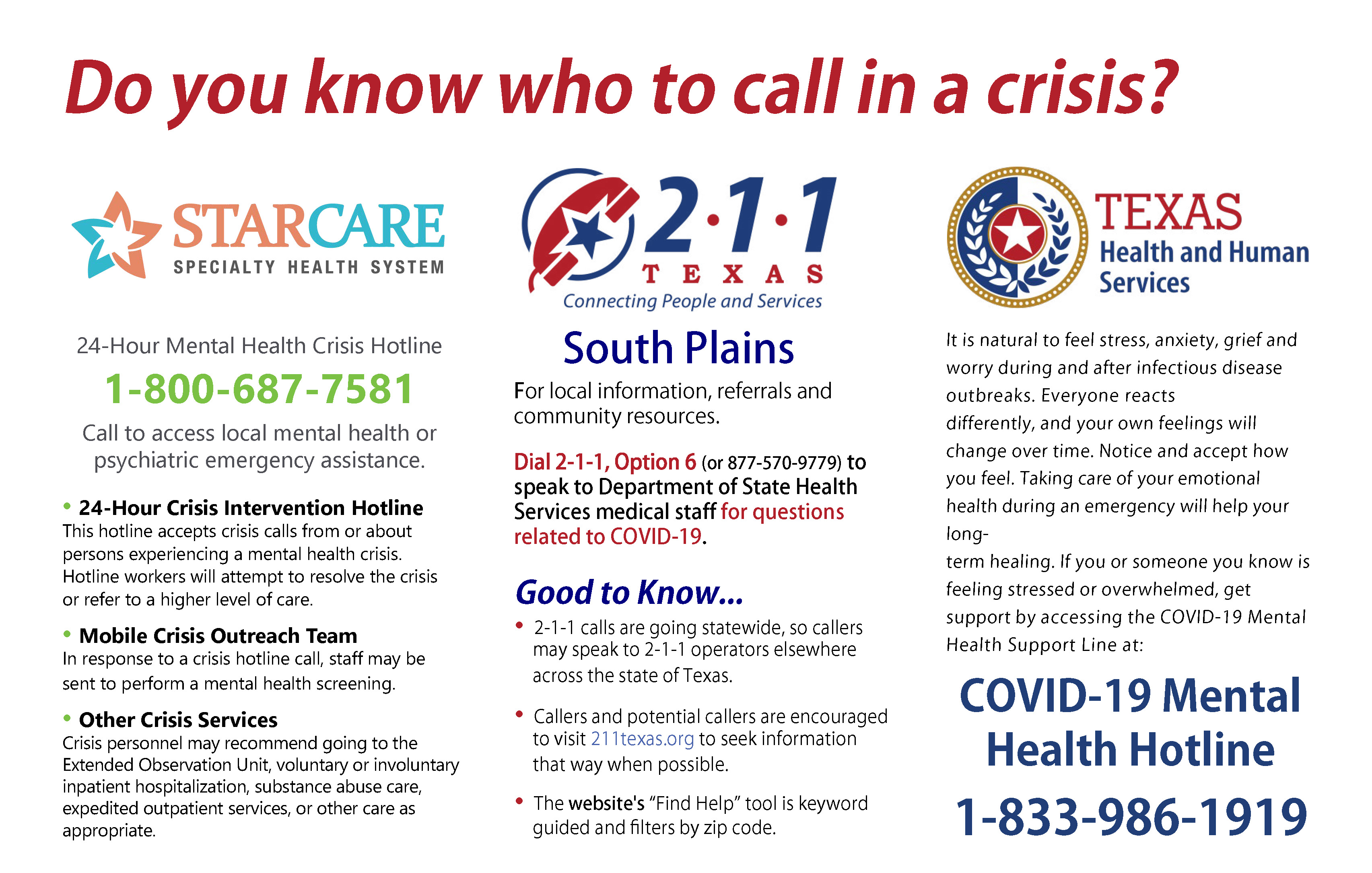 Click Here for PDF of Who to Call in a Crisis
Articles and Webpages
Should I Be Tested for COVID-19?
Public health testing focuses on people who have symptoms and meet testing criteria below. It is free and will be arranged by your doctor through the local health department.
Testing criteria includes having fever, cough, shortness of breath, PLUS:
close contact with a confirmed case
traveled to a location with ongoing transmission of COVID-19
risk factors for getting very sick from COVID-19
hospitalized with COVID-19 symptoms even if you do not have any risk factors
Private testing is available with a doctor's order. Cost depends on the lab.
Be sure to call ahead before going to your doctor's office or emergency department to prevent any potential spread.