Pregnant Postpartum Intervention – Project APPLE
Assisting Parents with Prenatal and Postpartum Learning and Education
StarCare's Pregnant Postpartum Intervention (PPI) Program, Project APPLE, coordinates with community agencies to provide pregnant and postpartum women with help to obtain the resources needed for mothers and their children at no cost.
Services Provided
On-site and home evidence-based Parenting Classes and Fetal Alcohol Information (Parenting class times and other service times vary. Please contact the program staff for the current schedule.)
Evidence-based parenting education to schools, agencies and individuals that includes

Reproductive health
Parenting
Fetal & child development
HIV and STDs
Nurturing parenting values

Case management to identify the need for medical, educational, mental health, housing and other necessities
Substance abuse screening and assessment to identify issues related to alcohol and drugs
Linkage to community resources such as housing, transportation, day care, food, clothing and many other necessities
Referrals to cooperating agencies for help with prenatal-postpartum needs, counseling, employment, clothing and additional needs
Alternative activities – including picnics, games, arts and crafts and trips to museums and libraries – focused on helping families address communication, family roles and stress management, while supporting family relationships
To Qualify for Pregnant Postpartum Intervention
Individuals Must:
Be pregnant or postpartum (includes the period from birth through 18 months of the infant)
Live in one of the 41 counties of Region 1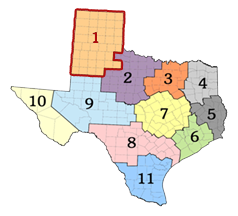 Region 1: Armstrong, Bailey, Briscoe, Carson, Castro, Childress, Cochran, Collingsworth, Crosby, Dallam, Deaf Smith, Dickens, Donley, Floyd, Garza, Gray, Hale, Hartley, Hall, Hansford, Hemphill, Hockley, Hutchinson, King, Lamb, Lipscomb, Lubbock, Lynn, Moore, Motley, Ochiltree, Oldham, Parmer, Potter, Randall, Roberts, Sherman, Swisher, Terry, Wheeler and Yoakum
Be identified as being at risk of having, or who have, a substance use disorder. Risk factors include:

Teen pregnancy (including females through age 19);
Current or past involvement with Department of Family and Protective Services (DFPS) or other child protective services agency;
Current or past use/abuse of, or dependence on, alcohol and/or drugs;
Current or past domestic violence;
Current or past mental health problems, especially perinatal mood disorders;
Living in a household with a person who abuses alcohol or drugs;
Current or past history of sexual, emotional or physical abuse;
Insufficient, late (third trimester) or no prenatal care; or
Financial distress

Be referred by the Department of Family and Protective Services or who are identified as being at risk of having, or who have, a substance use disorder and who have children under the age of six
For more information on Pregnant and Postpartum Intervention visit https://hhs.texas.gov/services/mental-health-substance-use/adult-substance-use/pregnant-postpartum-intervention.

To Enroll
Contact the PPI Program to complete a screening.